For whom was MikaSolv developed?
This method, MikaSolv, is for coaches, business consultants, mediators, facilitators and others who – in the broadest sense – lead meetings, in which problems are discussed, and solutions are sought. It is for everyone who creates and provides a suitable framework so that participants can, among other things, discuss and eventually solve problems. It presupposes a certain amount of theoretical knowledge and practical experience that comes with working in these fields.
I developed this problem-solving method for professionals who struggle with tricky problems and need to find solutions. But anyone who participates in conversations about problems and finding solutions can benefit from MikaSolv. In addition, anyone who thinks about problems for themselves will find it helpful. In this sense, the process can be used in meetings, in coaching sessions and in consulting settings – and even in one person's own reflection, in an effort to solve personal, individual problems.
What does this problem-solving process offer?
MikaSolv helps professionals to become even better problem solvers. Or more precisely: to help their counterparts – that can be coaching clients, persons consulted, mediation clients, workshop participants or others – to find better solutions to those problems that burden and slow them down in a direct way.
This is what the method entails
A precise process for getting from a diffuse problem report (the problem story) to the heart of the matter, the core problem. In my book you will find detailed explanations and many examples of how to apply the process.
Abstractly formulated solution principles, which have proven themselves many times elsewhere and can also be applied to a new, acute problem. In my book you will find the full, 2022 updated list of solution principles with detailed explanations, suggested questions and many examples.
The 5 pillars of the problem-solving process "MikaSolv"
In my trainings I like to describe the method by means of the following 5 "pillars" on which it stands.
Identify the simple, clear core of a problem. To do this, I need to find the core problem – the one we want to solve. I have to formulate it in one sentence. For this I sometimes need the courage to omit!


Use solutions that have already proven themselves. In order to make the solutions – the solution principles – interchangeable between different concrete problems, situations, industries, roles and so on, they are formulated abstractly in the MikaSolv method.


Only the presumably applicable solution-oriented, abstract solution principles are used. This filtering can be done in different ways: By means of effect groups on coaching cards, with the help of a software, or intuitively in a personal conversation.


From those solution principles that are to be used, the coach formulates his coaching questions.


The coaching questions are asked by the coach to a person who knows the details of the problem very well (for example, because he/she is the one who has the problem).
The problem-finding part and the solution-finding part can be used independently of each other.
We distill some goal out of the problem story our counterpart is telling. At this point it is not so important whether this is the one, significant goal or not.
Through skillful questioning, we move from "some goal" to the actual, core, currently blocked goal of our counterpart.
We review the found goal with regard to whether there is another, equivalent goal that would be easier to achieve. And with regard to whether the found "actual goal" is actually blocked by an obstacle, or whether it can actually be achieved quite easily.
We determine what type of problem and problem structure we are dealing with: Roadblock problem or Dilemma?
Depending on whether we are dealing with a roadblock problem or a dilemma, we name the problem in a clean problem statement (roadblock) or we formulate questions aimed at breaking down the contradiction between our goals (dilemma).
This ends the core problem definition and we can start the search for a solution.
How to best use the 60 solution principles
Everything starts with the problem statement
As mentioned, the "MikaSolv" problem-solving technique is built up of two parts: the part where we identify the problem and the part where we find solutions. The basis for the latter part, its starting point, is the problem statement from the former part.
Know the players that make up the problem!
What is a player within a problem? Here, it is not only about human players in the narrow sense. Rather, the term refers to all elements that constitute a problem: Apart from people, this includes, above all, things and actions (activities). If they are important for a problem situation, immaterial things such as ideas, desires and fears may also be considered as players under certain circumstances, although that does not happen too often.
Which solution principles do we want to apply?
There are different ways and procedures to go through the list (or playing cards) of solution principles and filter them so that only those principles are left that are likely to be applicable and potentially lead to good solutions.
In the simplest case, you – the coach or method expert – go through the list/cards and decide per principle whether it is likely to be applicable.
Now we formulate coaching questions.
For each solution principle that the method expert has selected for application, he formulates a coaching question – or several. Regardless of whether the players were discussed in advance and listed on a piece of paper, for example, or whether they are "simply known" from the problem story, the method expert applies the solution principle – meaningfully, against the background of the problem at hand – to one of the players (or  to the problem itself). In this way, he establishes the connection between the abstract, generally valid solution principle and the problem at hand, and he leads the problem expert as close to a concrete solution as he can.
We write down all solution ideas that we want to keep for later.
In order to save the particularly interesting and potentially useful ideas for later, they should be continuously written down by someone while working with the solution principles. The problem expert can do this himself, but the method expert can also do it for him – and will then receive instructions from the problem expert on what he should and should not write down.
The application of the method in the narrower sense ends with the fact that suitable, promising solution ideas have been written down for later review. The problem expert will take these ideas with him; he might subsequently sort them, rank them, or select the best ones and discard the less useful ones based on solution power, cost and effort, feasibility or similar attributes.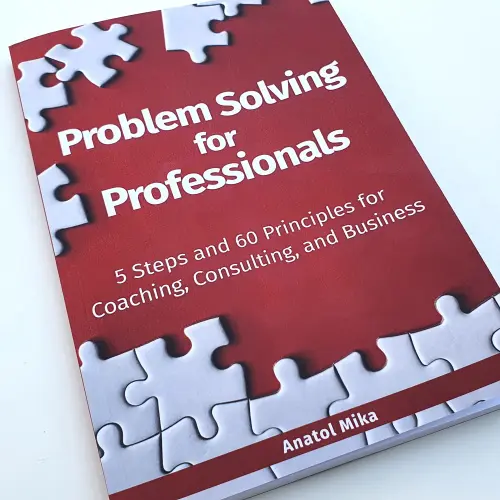 My book "Problem Solving for Professionals" has been launched on July 15, 2022. You can order it from Amazon.